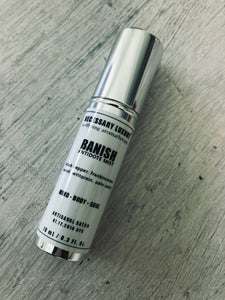 INTRODUCING...
BANISH
BANISH ANYTHING THAT DOES NOT SERVES YOU, SO YOU CAN ATTRACT OF WHAT YOU REALLY NEED
Thoughts are powerful energy. Our thoughts drive our emotions, which drive our behaviors, and ultimately, determine our actions - what kind of life we live.

Introducing Banish, our antidote mist that shift your mind and ban all negative thoughts, energy and vibes, from distracting you.
In just one mist, Banish envelops you with sacred, powerful and protective energetics of Palo Santo, Black Pepper, Frankincense and Neroli-Petitgrain to shield your mind, body and spirit so that you can protect your power and make a positive choice about how you want to think, feel and live.
Take charge of your thoughts and make them powerfully benefit you!
Sourced from all over the world, we use only natural and pure essential oils to create our Antidote Mist. 
Zero synthetic. 100% natural fragrance.
Banish contains:
1. Palo Santo from Ecuador
Known for its medicinal properties and its heavenly presence in keeping energies grounded and clear to banish bad juju!
2. Black Pepper from Sri Lanka
Known for banishing self doubt by reducing fear, fatigue and low energy. It strengthen and motivate the mind.
3. Frankincese from Somalia
Known for centering the mind and overcome stress and despair by improving one's spiritual connection.
4. Neroli-Petitgrain from France
Known for banishing confusion, anxiety, mental fatigue and depress. Soothes the hear and boost spiritual awareness.
Our Antidote Mist is created for the discerning few. We only produce limited, artisanal quantities. There will only be 50 bottles of each functional fragrance produced.