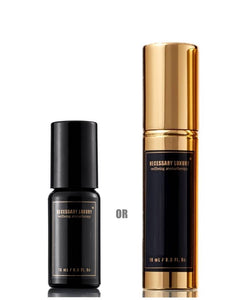 One cannot but admire the essential oils' ability to operate effective not on the cellular, physical level, but in the emotional, intellectual, spiritual and aesthetic areas of our lives - and you cannot do this with synthetic scent and fragrances.
If you are seeking a specific blend to address specific concerns, a customized and personalized blend is your answer.  The process involves a 30 – 45 minutes phone conversation so that we can create a blend (choose from a weightness, non-sticky oil base or a mindset mist) designed for your wellbeing.
Each blend is unique and is handmade at the time you order to ensure freshness and potency. We keep your recipes on file so that we can replicate your custom and personal blend, at any time.
Whether you are looking to create scents and aromas that would empower your mind, body and spirit, shift your mood, renew your energy, overcoming fear, restlessness, depression, grief, etc., to feel not just different – but more.