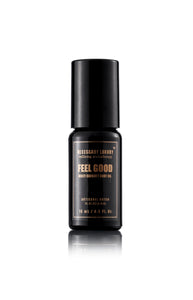 Feel Good is now available in easy-to-carry, to-go roller ball for on-demand wellbeing!
Tried and tested for more than a year. This is the lightest, most weightless, rapid-absorbing skin oil infused with the most precious and powerful skin- and mood-loving essential oils. 
Simply warm 1-2 drops in the palms of your hands, rub them gently, inhale deeply and apply over your body.
Other usage ideas:
- As a face oil because it feels weightless. Add 1-2 drops in your hands and apply to your face. Use alone or try by layering it under your serum and/or moisturizer 
- As a bath oil. Add 10 - 15 drops or more into warm bath water
 
- As a pre-shaving protector. Add a few drops to protect your legs prior to shaving. Great for anyone who is prone to razor burn (those small red bumps that appear after shaving)
 
- As a beard oil. Add 1-2 drops in the palms of your hands. Begin by massaging the oil deep through your beard, working backwards against its natural flow. Use your fingers like a comb to ensure all the oil is spread evenly up through your sideburns and down under your chin
 
- As a frizz-tamer. Add 2-3 drops in your hands to smooth down flyaways and keep frizzy hair at bay.
Feel Good contains:
1. Lavender Highland from France
2. Vetiver from Madagascar
3. Frankincense from Somalia
4. Rose Geranium from South Africa 
5. Chamomile Roman from England
6. Jojoba from the USA
7. MCT (medium chain triglyceride) Coconut Oil from Singapore
Nut-free version available upon request.