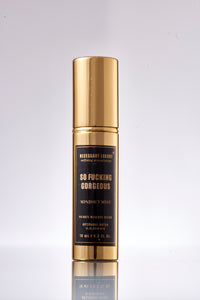 If we can see ourselves as a positive, happy, vibrant and gorgeous individual, other people will be more likely to see us in the same way.
Of course, it is tough to be 'gorgeous' all the time but it is now possible to raise oneself and smell So Fucking Gorgeous whenever you want it!
In just one mist, So Fucking Gorgeous will amplify and magnify your mindset and aura by seeking out the hidden reserves we have within us and enveloping you in warmth, love and joy. Expect, pure happiness and unadulterated delight!
Indulge yourself, be gorgeous to yourself - It Is not a crime!
Sourced from all over the world, we use only natural and pure essential oils to create our mindset mist. Zero synthetic. 100% natural  fragrance.
So Fucking Gorgeous contains:
1. Anis Star from Belgium
2. Rose Absolute from Bulgaria
3. Cypress from Spain
4. Clary Sage from Austria
5. Niaouli from Madagascar
6. Tuberose Absolute from India
7. Grapefruit from the US
We only produce limited, artisanal quantities. We do not want everyone to smell the same. There will only be 88 bottles of each fragrance produced.