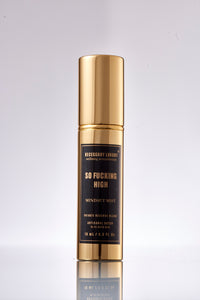 Infuse your life with action. Don't wait for it to happen. Make it happen.
Make your own future. Make your own hope. Make your own love. And whatever your beliefs, honor your creator, not by passively waiting for grace to come down from upon high, but by doing what you can to make grace happen... yourself, right now, right down here.
So Fucking High is an intoxicating blend that elevates the mindset to a higher realm. In just a mist, it will propel you onward and upward, elevating your confidence and self-esteem.
Sourced from all over the world, we use only natural and pure essential oils to create our mindset mist. Zero synthetic. 100% natural fragrance. 
So Fucking High contains:
1. Atlas Cedarwood from Morocco
2. Oakmoss from France
3. Cistus from Spain
4. Hiba Cedarwood from Japan
We only produce limited, artisanal quantities. We do not want everyone to smell the same. There will only be 88 bottles of each fragrance produced.