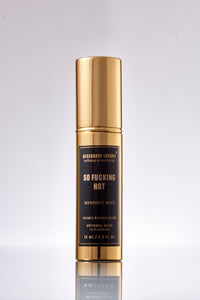 Being hot is a very personal thing – what makes one person hot would not necessarily makes another one hot. However it comes, though, being hot is glorious.
In a sense, it is nothing more than the ability to accept who we are and how we are feeling, instead of striving to be someone we could never be.
In just one mist, So Fucking Hot brings you the alluring power of three potent firs that will boost your mind, body and spirit so that you keep your cool, and radiate endless warmth. 
PS: Being hot never hurts.
Sourced from all over the world, we use only natural and pure essential oils to create our mindset mist. Zero synthetic.100% natural fragrance.
So Fucking Hot contains:
1. Fir Grand from France
2. Fir Balsam from Canada
3. Fir Needle from Canada
4. Copaiba Balsam from Brazil
5. Rose from Bulgaria
6. Frankincense from Somalia
We only produce limited, artisanal quantities. We do not want everyone to smell the same. There will only be 88 bottles of each fragrance produced.