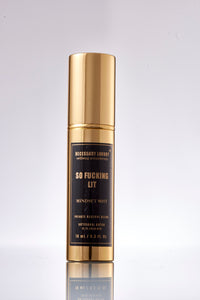 Our precious blend of the most powerful essential oils that will lit your mind, body and spirit with just one mist. 
This brightening, uplifting and cheerful blend clarifies everything through upliftment and focus, with a touch of warmth. In just one mist, So Fucking Lit enables the entire psyche to reach to the positive in mortal, as well as divine love.
Sourced from all over the world, we use only natural and pure essential oils to create our mindset mist. Zero synthetic. 100% natural fragrance.
So Fucking Lit contains:
1. Angelica Seed from England
2. Yuzu from Japan
3. Myrrh Wild from Somalia
4. Litsea Cubeba from Indonesa
5. Bergaptene Free Bergamot from Brazil
6. Plai from Thailand
7. Neroli from Egypt
8. Elemi from the Philippines
9. Frankincense from South Africa
10. Helichrysum from France
We only produce limited, artisanal quantities. We do not want everyone to smell the same. There will only be 88 bottles of each fragrance produced.