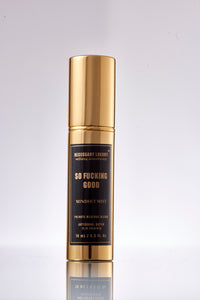 We bring together three of the most sacred and precious ingredients to create the most purposeful and powerful scent that will set your stage bright and start your day with a bang!
In just one mist, So Fucking Ready sets the mind, body and spirit with purifying radiance and vitality along with necessary grounding and confidence. Get it now and go kick some butts!
Sourced from all over the world, we use only natural and pure essential oils to create our mindset mist. Zero synthetic. 100% natural fragrance.
So Fucking Ready contains:
1. Lavender Kashmir from Kashmir
2. Holy Basil from India
3. Sandalwood from Australia
We only produce limited, artisanal quantities. We do not want everyone to smell the same. There will only be 88 bottles of each fragrance produced.