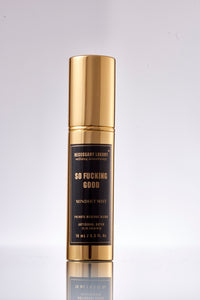 You can look in the mirror and find a million things wrong with yourself. Or you can look in the mirror and think:
"I feel good, I have my health, and I'm so blessed and grateful."
That's the way I choose to look at it and I affirm my intention with So Fucking Good mindset mist.
Inspired by our humble yet popular Feel Good oil, now everyone and anyone can feel good is just one mist.
PS: A spritz in the air will definitely turn a Debbie Downer into a Felicia Feel Good! (I love spraying in a meeting room before everyone arrives! Or on my pillow at night)

Sourced from all over the world, we use only natural and pure essential oils to create our mindset mist. Zero synthetic.100% natural fragrance.
So Fucking Good contains:
1. Lavender Highland from France
2. Vetiver from Madagascar
3. Frankincense from Somalia
4. Rose Geranium from South Africa
5. Chamomile Roman from England 󠁧󠁢󠁥󠁮󠁧󠁿
We only produce limited, artisanal quantities. We do not want everyone to smell the same. There will only be 88 bottles of each fragrance produced