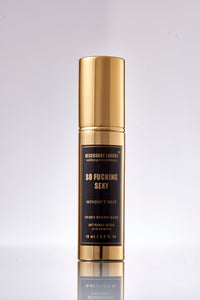 Being sexy is all about attitude. It is a state of mind that makes us sure of ourselves, unafraid to walk tall, go anywhere or do anything, feeling attractive and free. 
Sexy is confidence, and we all know it when we see a 'sexy' person walk into the room. They have an air about them.
In just one mist, So Fucking Sexy envelops you with alluring confidence and sensuality, amplifying your state of mind with the most luxurious energetics so that you can enjoy life to the fullest.
Sourced from all over the world, we use only natural and pure essential oils to create our mindset mist. Zero synthetic. 100% natural fragrance.
So Fucking Sexy contains:
1. Saffron from India
2. Cardamon from Guatemala
3. Pepper Tree from Peru
4. Spearmint from the USA
5. Ylang Ylang Complete from Madagascar
6. Rose from India
7. Amyris from Haiti
8. Patchouli from Indonesia
We only produce limited, artisanal quantities. We do not want everyone to smell the same. There will only be 88 bottles of each fragrance produced.